Emma Elizabeth Downing
My statement of WHY....
I create aural images as companions to visual symbols. I collect sounds from beloved environments and embed these sounds into a blanket for words to rest upon. If all goes well, when these words are sung they activate the symbols, which live again in the air. This is the magic of music. The visual images whom I paint and draw arise from the landscapes which I love to manipulate into existing upon a flat surface. This is the magic of art.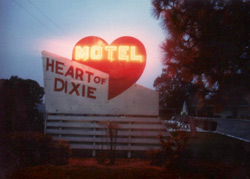 My statement of WHO....
Heart of Dixie MotelI was born in a tiny town in Alabama and grew up working in the family business, the Heart of Dixie Motel. There were miles of woods behind the motel and Highway 280 in front of the motel. The town lay in the valley below. The Tallapoosa River, just beyond this valley, was dammed in the 1920s, which flooded a lot of little towns and created a huge lake, the Back Water. This lake covers my ancestors' homes and graves and from here many of my images arise.
I graduated from the small but fierce Art Department of Auburn University, then I moved to Baltimore to attend the Maryland Institute College of Art, with Grace Hartigan as my painting advisor. Here in Baltimore, I met many of the people influential in my development as a performance artist and musician. I live still in Baltimore with my wife, children and dog, making art and music with inspiring collaborators.